Missa in G Nokki dubious 6 [Weinmann XIX:G6]
Wanhal ?
Nokki dubious 6
Weinmann XIX:G6
Attributed name:
Johann Baptist Wanhal
Authenticity: Dubious Attribution
This work survives only in one peripheral source. It is stylistically plausible in, but employs tempo markings that either are not found in other masses (andantino) or seem unusual for their context (andante for the Kyrie), and no other work sets the Crucifixus as a separate movement. The continuo section being tacet in the Gratias and Et incarnatus is also highly suspect. Note that each section of the mass seems to be set in different tonalities, and that the Credo does not end with the same tonalities as it began. As with Nokki dubious 4, this might be a mixing of music from different sources, where one or more movements are by Wanhal, but it has not been possible to provide any examples of borrowings from other works.
Extent: 1389 bars
Music
1. Kyrie
Tempo: Andante
Metre:
2
4
Key: G major
Extent: 199 bars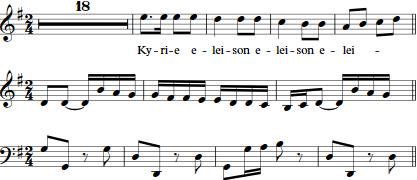 2. Gloria
Tempo: Adagio
Metre:
𝄴
Key: D major
Extent: 5 bars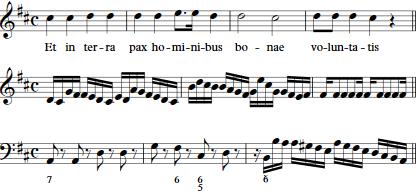 Allegro
Extent: 90 bars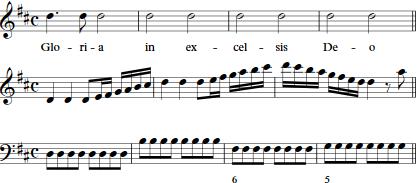 3. Gratias
Tempo: Andante
Metre:
2
4
Key: G major
Extent: 153 bars

4. Quoniam
Tempo: Allegro moderato
Metre:
3
4
Key: C major
Extent: 155 bars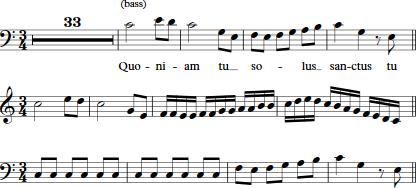 5. Cum Sancto Spiritu
Tempo: Adagio
Metre:
𝄵
Key: D major
Extent: 5 bars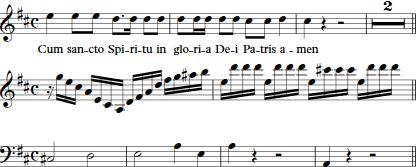 Amen
Tempo: Alla Capella Allegro
Metre:
𝄴
Key: D major
Extent: 86 bars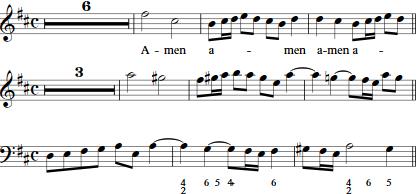 6. Credo
Tempo: Andantino
Metre:
6
8
Key: A major
Extent: 53 bars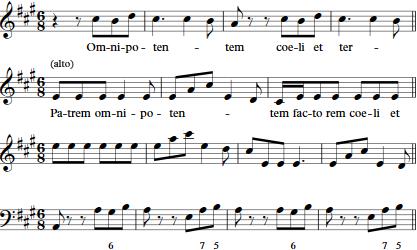 7. Et incarnatus
Tempo: Adagio
Metre:
2
4
Key: A major
Extent: 69 bars

8. Crucifixus
Tempo: Adagio
Metre:
𝄵
Key: A minor
Extent: 28 bars

9. Et resurrexit
Tempo: Allegro assai
Metre:
𝄴
Key: D major
Extent: 129 bars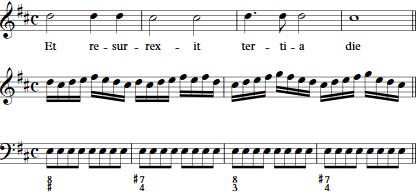 10. Sanctus
Tempo: Adagio
Metre:
3
4
Key: D major
Extent: 23 bars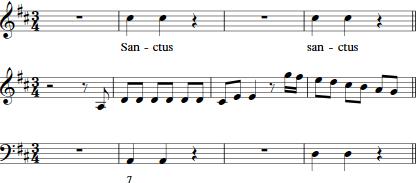 Pleni sunt coeli
Tempo: Allegro
Metre:
𝄴
Key: D major
Extent: 49 bars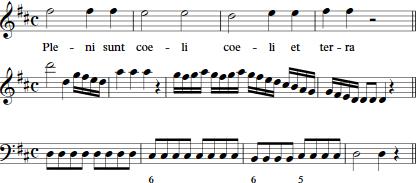 11. Benedictus
Tempo: Andante
Metre:
𝄴
Key: D major
Extent: 133 bars

12. Agnus Dei
Tempo: Adagio
Metre:
2
4
Key: G minor
Extent: 82 bars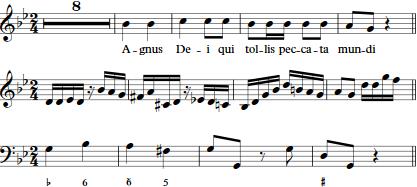 13. Dona nobis
Tempo: Allegro moderato
Metre:
6
8
Key: G major
Extent: 130 bars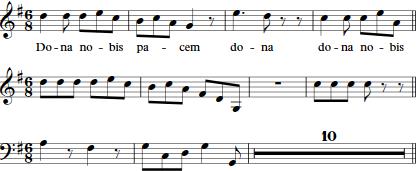 Sources
Bibliography
File title:
Missa in G Nokki dubious 6 [Weinmann XIX:G6]
Last changed 2020-09-19 by
Halvor K Hosar